3 min read
Insurance is not just a legal contract. It is a world of interactions.
And at their very core, insurance interactions consist of processes between a customer and a business. Such interactions are regulated especially at the purchasing phase. Other interactions are emotionally charged such as when policyholders make a claim. Whether a customer is about to buy, manage or claim their policy, they will need to go through a dedicated process.
How past insurance processes worked
In the manual era, operators took charge. Their role was to receive queries, and understand and process them by doing some triage to see which query is simple or complex. Most of the time, the information gathered was put into a system (e.g. into the policy system). This process still happens- especially in claims and customer service.
As a step towards optimisation in the '80s, insurers started to automate some of the parts of the process (e.g. webforms) and to add many digital solutions to manage data and processes.
But not many insurers managed to develop such digital capabilities. When they did manage to develop them, the policy system was so difficult to integrate that the cost of doing it was higher than the benefits of creating web forms - the most popular mode of digitization, yet not necessarily the most performant.
With time, customers' expectations increased as the digital wave continued to spread in other industries. Service providers rose up to meet them. Except in the insurance industry. This meant that the insurance webform, despite being digital, looked like a dry digital monologue to the end user.
Most common problems with insurance processes
Data consistency
Today, many processes require employee manual input (entering customer details into the system). This increases the probability of human errors and consequently, process errors.
Lack of flexibility and sensitivity
Web-forms are not flexible and the process they offer is one-size fits all which doesn't acknowledge the preference in customer segments. For example, a customer using a mobile phone will find the webform clunky. The older segment will struggle with the rigid format of a web form. Overall, most people will not feel excited by a dry interaction that is slow to execute and does not feel personal.
Complexity of IT communication systems
Insurers are overwhelmed by the many systems available to execute a single process and one of the biggest problems is the communicability between them. Customer data might get lost between the interactions or at least fall at a risk.
Mitigation of problems and progress combined
Conversational process automation (CPA) is essentially a conversation codified digitally. It is fluid and enjoyable in terms of user experience, yet provides the audit required by complex customer-facing processes. In this sense, they are the next generation tool for information capturing and validation. They encompass all the functions of the webforms while making the interaction enjoyable, powerful, and educational. All these are features that web forms can't deliver.
Operationally, the biggest benefit of conversational process automation is that it provides structured data. This structured data further has two crucial benefits:
Smoother process execution with reduction of back-office costs
Faster query resolution with increase in customer engagement and therefore retention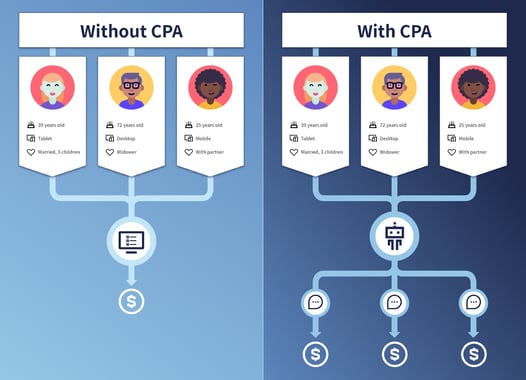 A Quote & Buy Process With and Without CPA
Cumulatively, all the variables are improved: customer experience, cost saving, and operational resiliency and business performance in terms of revenue.
Spixii is managing the interaction between customers and insurers by transforming customer unstructured data points in structured data. Every chatbot conversation is wrapped up with an output digestible by RPAs or policy systems. Moreover, Spixii ensures a superior customer experience by keeping the conversational format.
You can explore here to discover how Spixii Conversational Process Automation is uniquely positioned to support customer-facing insurance processes.