2 min read
The world is still in the grips of battling COVID-19. As companies lie low and get back to the basics of sustaining their business, we can take this opportunity to review internal processes. To choose a business future. George Santaya said:
"To know your future you must know your past."
Let's consider the history of insurance to know and mindfully choose the next steps.
A timeline of insurance through the ages
The concept of insurance has its roots in the early ages and was first practiced by sailing merchants. If a merchant received a loan to fund his shipment, he would pay the lender an additional sum in exchange for the lender's guarantee to cancel the loan should the shipment be stolen or lost at sea.
The interactions and the deals were always personal. It was finally in the 17th century that insurance was born in the multi-product form that we know it as today.
Until the 80s, deals were managed through face-to-face meetings and contract manual signment. As a result, business was not scalable.
In the 80s, technology began to dramatically change the interaction between insurance companies and customers.
Technology offered the chance to enhance business and operational efficiency. Call centers became the normal point of contact and the first webforms started to appear on the internet. Whilst this improved business efficiency, it drastically decreased the insurer-customer interaction by replacing conversation with an unpersonalised monologue.
Because of this change that occurred in the 80s, insurance companies today are struggling to make customer-centric policies and interactions. Customer expectations have dramatically changed because of an increase in digital service across (almost) all industries. Insurance is one of the retrograde industries which still needs to catch up.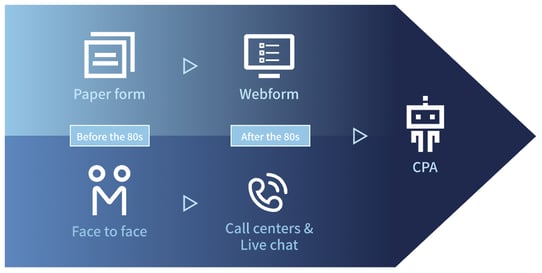 Where we are today
While all businesses have become more efficient, thanks to technology, the necessity of fostering relationships with customers has become crucial. Present day marketing calls it personalization. In reality, it is something that's always been natural in the way that business is done. A business is not a business without its customers.
Conversational process automation gives insurers the chance to rebuild this broken and ignored link between customers and insurance processes. This improves the customer experience while streamlining insurance operations through automation.
Conclusion
40 years ago, insurance leaders decided it was time to push their business to the next level by enhancing operational efficiency. Today, both customer experience and operational efficiency are expected to be top-notch. Conversational process automation offers the chance to hit both these targets with one stone.
Click here to find out the specific ways in which Spixii's Conversational Process Automation platform helps you boost your business performance while getting closer to your customers.
Because the thing is: technology is ready to take you places. The question- are you ready to go there?