3 min read
Have you ever felt how, despite the holiday season or the cheer of Christmas, winters do not feel kind always?
There's the constant shielding up against stronger and colder winds and the quick descent of the dark here in the UK. There is the snow, the hailstorms, and the blizzards which sometimes lock us up for days on end. Then there are the diseases that crop up because of all of the above.
Some of these are as common as the flu or as uncommon as Seasonal Affective Disorder (SAD) which affects only 1 in 15 people or roughly 7% of the population [1]. Symptoms include anxiety, depression, overeating, and sleep problems while the cause is the lack of sunlight that people experience due to daylight savings.
Most of the diseases, though, lie somewhere in the middle and plague a lot of people as the darker days deepen. In some cases, though, the cure is never found and results in death.
The curse of winters
According to the Office for National Statistics (ONS), in the winter period of 2017-2018, there were an estimated 50,100 excess deaths in England and Wales. The cause? Winters. Females and those aged 85 were hit the hardest. Over one-third, (34.7%) of these deaths were caused by respiratory diseases [2]. Other causes include: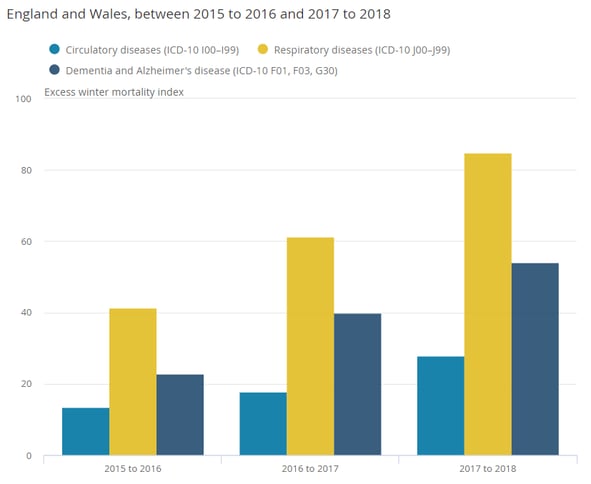 Due to this rise of illnesses in the winters and the increased risk posed by them, it is only natural that healthcare costs also go up. Wait times at the GP and at the A&E are long [3]. They stretch out more during the winters.
Despite the increased risks, heightened costs and longer wait times, people still do not opt for insurance. Private medical insurance is five times less popular than car insurance as illustrated below. [4].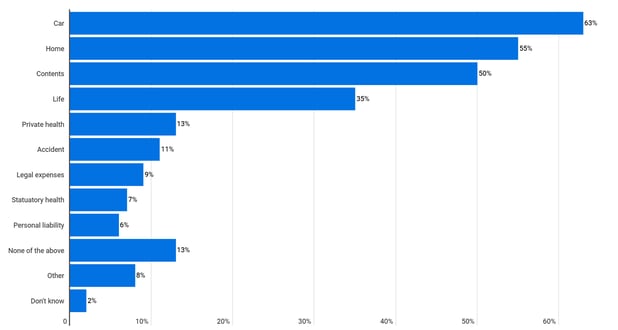 Your best bet then becomes this: taking better care of yourself even when something as minor as a 'flu' comes up.
How to safeguard yourself against common winter illnesses
We do not mean to get morbid here, but if you do not take care of yourself when the 'minor' illnesses hit, you'll soon find yourself caught up in the midst of major ones.
Hence, we present a few tips below to help you safeguard yourself against some of the most common winter illnesses.
Colds
These are the most common illnesses during this season. But keeping the cold at bay is really simple: wash your hands regularly. If you have a cold, use tissues instead of handkerchiefs so as not to not re-infect yourself.
Sore throat
Gargle using warm salty water. Although it won't heal, the mixture has a soothing effect and can curb any additional inflammation.
Asthma
Asthma cases tend to rise dramatically during the winters [5] due to the increase of triggers in the surroundings. To avoid dire situations, stay inside on extremely cold days. When you do step out, do so with a scarf lightly tied around your mouth or nose. Keep up with your medication and carry your inhaler with you everywhere.
Flu
Flu can put a lot of vulnerable people at risk. These segments include those aged 65+, pregnant women, and people with diabetes/ chronic obstructive pulmonary disease/ kidney disease. The flu vaccine is an effective preventive measure against the flu. If you're aged 65+ or have a long term health condition, then you can also get the pneumococcal vaccine to safeguard yourself against pneumonia.
Seasonal Affective Disorder
If you suffer from SAD, it is imperative that you stay as busy as possible and surround yourself with friends. Make an effort to go out whenever possible, soak in the buzz of being in a social setting, and catch the sun rays on the weekend when you are at home. If it is possible for you to step out of the office even for five minutes during your workday, then do that.
By following the above tips as espoused by the NHS [6], you can prevent visits to the doctor and save up on costly healthcare bills. Getting private medical insurance cover will also help to cover even more conditions than the ones described here.
Health insurance providers also have an opportunity to aid in this process by sharing these tips in advance through the Spixii risk prevention chatbot. Healthcare claims costs can be reduced drastically if the information and awareness stage is optimised. Spixii solutions can help to do just that. More information and be found and requested here.
Sources:
[1] heritagehealthcare.co.uk, [2] ons.gov, [3] BBC, [4] finder.com, [5] asthma.org, [6] nhs.uk
Cover image from Unsplash