6 minutes read
By 2025, the global travel insurance* market is expected to be valued at more than USD 35 billion due to growing global tourism. In the United Kingdom** alone, the travel insurance industry is estimated to reach a market worth more than £620 million GBP by 2020. This ascent of the industry can be credited to a variety of factors like diverse work options, affordable travel options, and an increased income.
This boom in the travel insurance industry is something that can be capitalised upon by implementing Spixii solutions.
Of course, these solutions can be applicable across the whole value chain of the insurance sector - distribution, customer service and claims, thus, enhancing the end-to-end customer experience. The differentiating factor, however, is the wording of each policy. While most insurance policies can be long-term policies with repeat purchases/renewals being numbered, travel insurance, by nature, is a short-term policy requiring constant repeat purchase. The exception is for an annual multi-trip policy which can be renewed yearly.
Below, we dive deeper and list the particular vertical of travel insurance, where the introduction of Spixii solutions would benefit both the provider and the procurer:
The claiming process
The most severe claims*** made on travel insurance were to cover emergency medical expenses. Every year, almost 150,000 Britons are forced to claim emergency medical treatment overseas.
In 2018, the average amount per claim was £1,368. According to research from the Association of British Insurers, this amount is nearly double from what it was in 2008.
In the whole travel insurance provider pipeline, this is the most crucial phase and determines the loyalty and satisfaction that a company inspires in its customers. Spixii solutions provide ease of communication, 24*7 availability, no problem of differing time zones, and increased personalisation- all of which help to make this phase more robust and responsive right from the first notification of loss to straight-through processing
Millennials and their increasing digital nomadism
Recent years have seen a rise in 'travel as a lifestyle. Once upon a time, people only travelled for business purposes or holidays. Traditional 9-5 desk jobs didn't allow one to take extended vacations since all jobs were manual and required in-person presence.
With new technological introductions in as little a span as 10 years, work culture changed rapidly at the global level.
Tools like video conferencing, document sharing, and sophisticated CRM software, allow any location to be an "office" as long as there is an internet connection. This new way of working is especially coveted by millennials, who also turned out to be the demographic that invested the least in travel insurance.
As per a report released by ABTA in 2017, the percentage of travellers in the UK who did not buy travel insurance is as follows: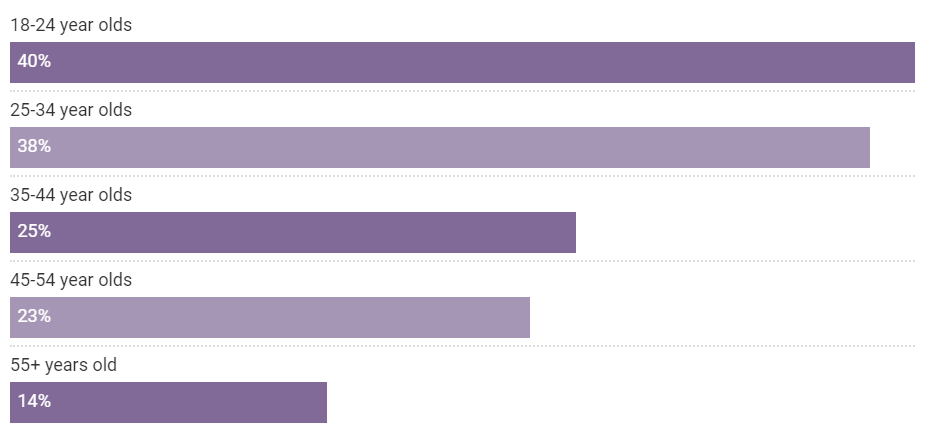 When asked why they did not buy insurance, here is what they said:
The 1st myth, probably stemming from a miscalculation or unawareness about the price of travel insurance, can easily be busted. For the millennial demographic, annual policy costs £33 on average. The same amount is spent frivolously on a large Domino's Pizza or 3 packs of cigarettes or even a movie with popcorn. Travel insurance, it turns out, offers more in return than it calls to invest.
Since millennials already live on the Internet, appealing to them digitally is a no-brainer. This is where Spixii solutions can help capture the millennial segment that doesn't buy travel insurance by showing them how affordable and easy it is. An added benefit is existing customers are further enticed and retained due to the increased personalisation and heightened ease.
Year-round travel
As more and more professionals, even outside the millennial demographic, choose some form of remote work, travelling will become commonplace. One of the primary reasons for not working from the office is to have the freedom of locomotion- people work, but they do it where they want to, whether it's on the beaches of Costa Rica, or a cafe in Paris.
Travelling baby boomers
In 2012, Mark L. Welton, chief of colorectal surgery at the Stanford Cancer Center and an advisor to Men's Health magazine, fell off his mountain bike and broke his collarbone in the Swiss Alps while on vacation he wasn't even zooming down a hill slope or doing anything dangerous. He had just pulled over to the side of the road to let a hiker pass when his bicycle toppled, and he fell, resulting in a broken collarbone. He had to cancel the rest of his 2-week journey and head home to the States for surgery.
Welton paid for all medical expenses himself. These included: about $350 for X-rays and a sling at a hospital in the Swiss village of Murren; another $350 airline change fees for switching flights booked with frequent-flier miles; $531 for a taxi from the nearby village of Lauterbrunnen to Zurich; and $660 one night at an airport hotel before flying home.
If only he had bought insurance. Easier on the wallet, a better experience and peace of mind. Using the solution, details of his problem would've been collected right at the moment, and he would've been contacted by a representative in no time, seeing the seriousness of the case.
Apart from millennials, a target market for travel insurance is baby boomers who now realise how such injuries and accidents can occur at any time. Medical bills are a steep affair no matter the part of the world and forking out a large portion of your retirement money is spelling trouble. Hence, they make sure to buy insurance for themselves before setting off. This market is already thriving and still has the potential for more growth. Insurance providers would benefit from providing better solutions to increase accessibility through Spixii solutions.
Tedious compensation processes
Most people are familiar with EU and England's policy of mandating compensation in case of delayed or cancelled flights irrespective of whether one has travel insurance or not. The process, however, can be long and cumbersome.
Spixii solutions can ease this pain point for both the claimant and the insurance provider. There would be no need for long lead times, painstakingly hand lettering your claim, and preserving photocopies of your documents.
Using Spixii solutions, those affected would simply engage a conversational robot online, share their flight details and account details, verify their identities by uploading e-tickets and e-receipts, and receive the appropriate compensation. All without writing endless followup emails, or making multiple phone calls and office visits.
Seasons of enquiries
Another reason why Spixii solutions are needed in the travel insurance industry is due to the seasonal nature of enquiries. Summer and winter are the times when the maximum number of people are travelling. The number of claims made during these seasons snowballs.
Representatives cannot always handle the increased volume efficiently, along with their other tasks. Not to mention, not all claims and enquiries are made from within the same time zone. In case of an emergency, this can spell disaster.
Having an Spixii solution working 24*7 along with a permanent workforce can help in quicker processing of enquiries. The solution can take care of the more straightforward questions while the representatives themselves can handle more complicated matters. Customer experience and satisfaction would go up several notches.
Conclusion
Our hope is that as a provider of travel insurance, the above points enlightened you about possible areas where your business can expand and solve customer problems that aren't apparent to the customers either. Spixii solutions will be a trustworthy and reliable tool as the travel insurance industry continues to ascend. You can start your journey by experiencing the benefits of the solution here and reaching out to us to discuss the same for your business.
* Source 1
** Source 2
*** Source 3