3 min read
When we say microinsurance, what do you think?
Third-world impoverished countries? Low-income groups? Inconsistent insurance terms? But, what if we told you: microinsurance doesn't have to be this way? That there's a largely untargeted group that would benefit from it? And best of all, you do not need to set up offices in third-world countries for that. You can cater to them with your existing infrastructure itself.
Wondering what group it is? The answer- Millennials.
Would you like Toffee?
Toffee Insurance is a Gurgaon based licensed insurance corporate agent in India. What makes it stand apart are its innovative products which are wholly targeting an unexplored vertical in the insurance marketplace: millennials. This is a generation that makes up 31.5% of the global 7.7 billion population*.
They sell 'bite-sized insurance for everyday moments.' Options vary from international travel insurance to cyclist insurance, mosquito insurance, backpack insurance, and daily cash. Their reach has expanded to 170+ cities and 98% of their claims have been approved. From their home page: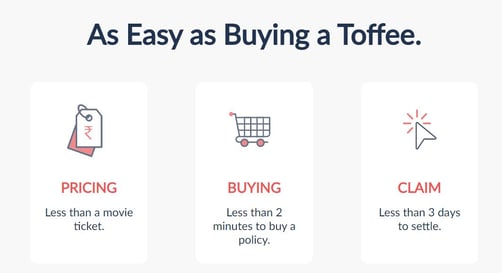 In the words of Rohan Kumar, CEO, and founder of Toffee Insurance, their focus is to 'create products that resonate with the needs of this growing generation.'
Why microinsurance for millennials makes sense
There are very strong reasons why targeting millennials would be a shining success:
Millennials are good with technology
We only need to look around to see the rampant usage of technology by millennials. Almost all of them have got their noses buried in a smartphone. And if not a phone, then they've plugged in their earphones. Overall, there's no taking away millennials from technology.
This works to the benefit of innovative insurance providers like Toffee because their innovative products are deployed using technology itself. Although a lot of millennials have a love/ hate relationship with technology, they never deny its usefulness. Moreover, traditional insurance systems have been set up to function optimally offline. And it is hard to catch millennials' attention there.
Their income automatically creates on a cap
Millennials make very different choices as compared to older generations. For example, as per Deloitte's Global Millennial Survey 2019, travel and seeing the world are the top millennial aspirations (57% said this). 49% of them said they wanted to own a home. They were also more interested in making an impact on society and community (46% here), as compared to having children and starting a family (39% here).
With different goals in mind, millennials are also earning differently. Stability and comfy retirement plans are not their goals. So many of them are entirely freelancing or starting their side hustles along with regular day jobs. This means millennials also live with their parents longer. Thus, there are financial constraints on their present and possibly, future as well. They cannot afford to invest in expensive insurance policies that have close to no flexibility.
Millennials demand more
As per Deloitte's survey, trust is lowering among millennials. They are suspicious of business' motives and have become increasingly inclined to spend their money where their mouth is. This means that if there's a misalignment of values, millennials won't buy from you.
Additionally, millennials are demanding more personalisation and safety than ever. 79% of them are concerned that they'll be the victims of online fraud and 78% are concerned with how organisations handle and share their personal data. Which brings us to the most effective tool for microinsurance...
Using Spixii solutions for millennials microinsurance
How do you combine the millennial traits to deliver an experience that resonates with them? How do you create a flexible product in a rigid industry like insurance? Answer: with automated insurance solutions.
Using these solutions, you:
Get to reach millennials through their very favorite medium: technology
Reduce infrastructure costs significantly, thus, provide low-cost solutions to them in return
Avoid compromising on speed, flexibility, or personalisation
Make data-driven decisions at each step to create maximum value for your target audience
Scale easily because your foundational technological base is already in place
The conclusion here is: millennials are whole new demographic which has grown up in the Internet age and graduated during the recession and lean years. These factors affect their choices and behaviors. If insurance providers want to sell to millennials, they will have to make new decisions and come up with new approaches. Spixii is your key partner in this transformation, you can already start inquiring with our Spixii bot right now!
Global millennial population stats from Bloomberg.
All other numbers from Deloitte's Global Millennials Survey 2019.