3 min read
Intermediaries such as financial advisers and brokers are often the first point of contact for banking, wealth, life and retirement products, especially when purchasing a new product or adding a new one. Yet, with growing client bases in an ever more complex world, the intermediaries are under increasing pressure to know the relevant information about their clients' history and need to maximise their interactions when talking to them.

Customer Relationship Management systems (CRM) should contain all this information. Still, such systems are complex to deploy and keeping the data up to date is difficult, let alone user-friendly. An alternative yet complementary approach is to use conversational process automation. With a simple-to-use chatbot interface, intermediaries can run at the tip of a finger specific processes that query the core systems that fetch valuable information about their customers when needed. Let's explore how to create more value for financial product providers and their customers.
Empowering distribution to fuel growth
True self-serve are initially created to help the end customers get quotes and change their financial products directly themselves and online. For complex financial products, intermediaries remain the preferred point of contact. Self-serve solutions can be configured for the needs of intermediaries and can offer different capabilities than the ones presented to end customers. Equipping humans with automation is sometimes called hybrid operations, and in the case of life insurance, BCG defines it as Bionic Distribution. For us, this is another term to empower intermediaries with relevant information about their customers just before meeting them.
Automation, data access, and delivery convenience ranks 1st
Improving the user experience benefits all parties, the customers or policyholders for the service during the policy and the intermediaries during the distribution.
In the report from Reuters on Transforming customer experience with chatbots, respondents also noted that reducing operational costs was a significant objective for using such technologies. We can easily see that a customer service agent will spend dozens of minutes navigating between systems to find, key in information and validate the changes.
The main success criteria are the ability of chatbots to automate, access data and deliver information in a context. Accessing data from core systems will improve the user experience and reduce the cost of operations to execute such tasks. At Spixii, we firmly believe that a good user experience is delivered by the fast execution of tasks that bring value to the end user
Example of forward-looking insights
Looking at past data immediately before the clients provides excellent help for intermediaries, but what if we could empower them to be a step ahead of their clients by simulating their life events?
By integrating the forecasting expert platform OutRank® from Kidbrooke®, the joint proposition can offer a conversational process to intermediaries and customer service agents to simulate the impact on their clients' portfolios for future life events such as buying a flat.
Providing seamless analytics for trusted conversations, Kidbrooke® has a track record in forecasting pension funds with a range of scenarios. Such simulations can now be accessed by intermediaries and take conversations with their customers to the next level.
Fully white-labelled, such conversational processes can be tailored to each financial adviser and the company's brand on its website. You can learn more by watching this video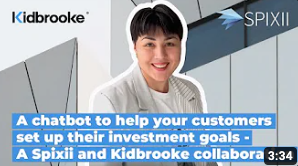 Conclusion
At the crossroads of spiralling inflation increasing the costs of operations and customer expectations asking for immediate answers, it becomes a critical differentiating factor for financial products providers to serve their clients better by empowering their intermediaries with modern tools and allowing their customers to self-serve directly for everyday tasks.
Conversational Process Automation can help intermediaries know relevant information about their customers before talking to them. Having the proper knowledge enables intermediaries to be more prepared and unlock value for their customers.
The same point is also valid for customer service operations when the average phone conversation lasts 20 minutes. Any improvements in executing operational tasks can shift the focus to delivering additional service.
Through the wise use of such automation tools, financial product providers such as life insurers can grow sustainably while giving the best customer experience to their existing and new customers.