3 min read
Innovate, evolve, thrive - the theme of the BIBA 2018 Hackathon. If you couldn't make it, don't worry - we have your back! Here is a round-up of highlights, including a key message that will help you save time and money when implementing new technology.
Here is a rundown of the Spotlight team's challenge and solution: a process which you could easily scale to grow your business.
1. The challenge
On a bright Tuesday afternoon in Manchester, the six teams gathered in the hackathon area. Our table included Ajay Mistry, Joshua Austen and Kyle Tompkins from Brokerbility, Arindra from Konsileo.
There were three separate challenges set for the teams. Ours was to provide a data-enriched, single view of the prospect or customer for the broker, to give them a better understanding of their client base.
To solve the problem, we first set out to define it. As a quote of Einstein behind us read:
If I had to solve a problem and my life depended on the solution, I would spend the first 55 minutes determining the proper question to ask, for once I know the proper question, I could solve the problem in less than 5 minutes."
We laid out a plan to dig into the 'why' behind this challenge. Each challenge was based on a real-life problem facing brokers in their day-to-day. The next morning, we began interviewing brokers about what problems they were facing. Here were some of our findings:
A lot of data was getting lost day-to-day;

Current IT solutions were up to the mark;

Consumers were just 'waking up' to the value of their data, and gaining awareness on how it is used;

There was a lack of real-time data;

Customers perceived insurance as a necessity in the short-term, rather than a long-term asset.
As one managing director eloquently put it, "in the commercial space do not take your eye off the customer. Everything we do has to be about them. Self-service is the way forward, but is making sure that what we capture is about the customer - not just our needs".
2. The design process
With these in mind, the team identified a common pain-point. With upcoming regulatory changes, brokers must be able to access real-time data on their customer or prospect quickly and securely.
Jon Beadmore created a rapid prototype to test these findings. The initial idea was a dashboard that could visualise the data and provide the broker with an immediate single view of their client's policies.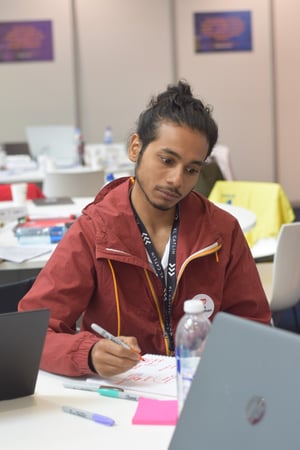 Laptop and notebook in hand, we returned to the main conference and started testing with brokers, who shared their feedback and expertise.
This knowledge was fed back to our developers, who added client insights and built the prototype for a buyer persona: Flo the florist. This gave the broker immediate information on the risks facing her business in the short and long-term.
Arindra, Konsileo
3. The solution
After several rounds of iteration, the final solution was a dashboard: presenting the broker with a view of their SME client in one place, including their current policies, analysis on their risks facing them and also some insights in the factors shaping their business.
David and Renaud pitched in front of the judges: Steve White, Julie Page, Vivek Banga, Peter Blanc, Helene Stanway and David Summers.
The Spotlight team was one of the last in an awesome round-up. Brilliant solutions included an educational initiative starting in schools to teach agile frameworks and methodologies to budding professionals, helping the insurance industry attract and retain young talent.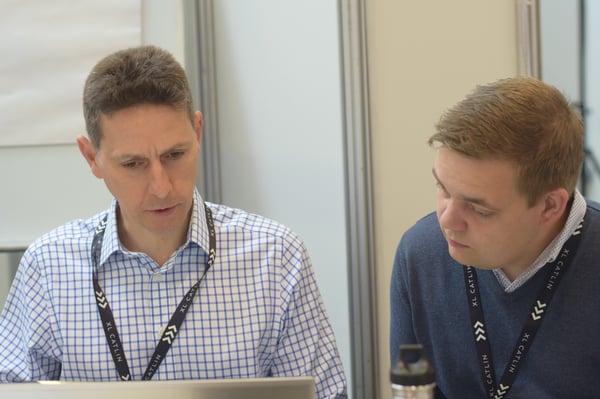 Jon Beadmore, Magpie Technologies and David Rose, Brokerbility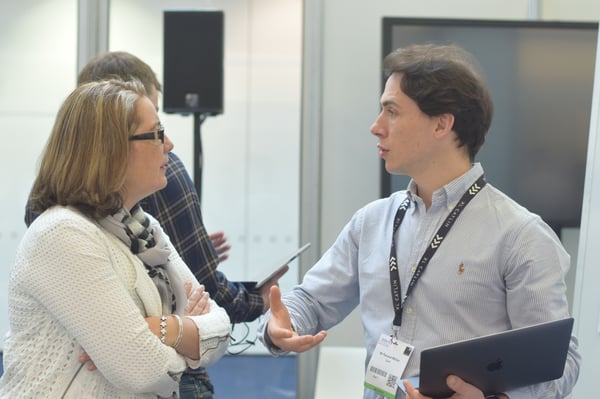 Shan Millie and Renaud Million
The wonderful Shan Millie and Anna-Marie Powell from Bright Blue Hare hosted the hackathon to great success. It was an incredible demonstration of the power of collaboration between insurers, brokers, reinsurers, agencies and insurtechs alike.
So, what was the key takeaway?
Always put humans first and technology second.
The 48 hours during the hackathon were spent not looking for the technology, but the human problem to solve. For more on this, you might find this blog post come in helpful.
It was a real pleasure to be involved with such talented, and most of all passionate, people from all aspects of the hackathon. Far from the future of the broker being debated, we believe the BIBA hackathon highlighted the sheer strength of the broker's future and vision of always putting their customers first.
As the first Canadian to walk in space Chris Hadfield said at his keynote:
Innovation is tough. You have to think outside of the box, innovate fiercely, be willing to fail and give examples of a world that does not yet exist."
Brokers, what world do you want to see?
To find out more about how to work with us, please click below. We would love to hear from you ☺️