2019-11-12
Spixii is pleased to featured for the second year in a row in the FinTech Global InsurTech Top 100 list. The InsurTech 100 is an annual list naming the most innovative companies making important strides in the InsurTech space.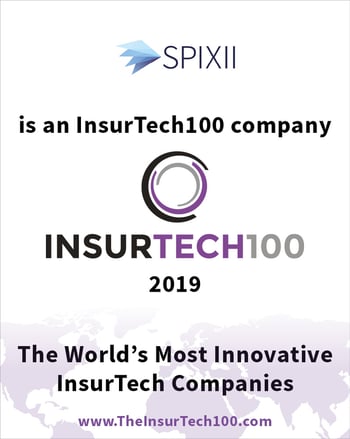 "We are pleased to see that our constant customer focus, as well as our automated solutions, are being recognised for the second consecutive year by FinTech Global", Renaud Million, Chief Executive Officer.
Spixii has also been awarded the UK claims 'Technology Partner of the Year' earlier this year and helped Zurich UK win the UK claims award for 'Innovative Use of Technology' for its claim chatbot 'Zara' in 2018. Being mentioned in the InsurTech 100 list is an additional notch in Spixii's belt as it aims to continue growing in the years to come.
About Spixii
Spixii is a technology company providing customer-facing solutions. Through personalised and scalable solutions, we help more people get better protected. Started in 2016, Spixii supports clients in EMEIA for P&C, Life and Health.
Spixii conversational robots execute quote & buy, insurance policy management and claims processes. Conversational Process Automation (CPA) gives the scalability and resilience missing to call centres and web live chats. It also keeps the dialogue with the end user which sadly disappears with web-forms. Spixii advanced analytics enable continuous improvement of the customer experience and operational performance.
Spixii solutions are applied for complicated processes such as sales and claims journey. Spixii's expertise goes beyond insurance chatbot provider due to its unique ability to analyse behavioral insights of the users which allow insurers to make better business decisions based on factual data.
Spixii believes in an iterative process to ensure that it is constantly adapting to the end-users wants and needs to achieve an above industry average Net Promoter Score of 60%+ while reducing operation costs making it a win-win situation for everyone.
For more information, please contact Spixii on press@spixii.com.