2 min read
Meet Spixii's CTO - Alberto Pasqualotto. Much like the Spixii macaw we are named after, appearances of Alberto are few and far between. Last year, Alberto bought a vespa to zip around London. Here's the story of what happened next, and why the online buying experience for insurance needs to change.
After I bought my Vespa, I spent almost three hours looking for insurance online. There were two huge problems. First, it was really hard to find insurance for scooters and motorbikes. I started to google 'scooter insurance UK', which took me to a number of comparison websites. They asked me for my personal information, such as my mobile number and/or email before giving a quote.
After I gave them this information, several websites did not accept my Vespa because the model was not present in their database - they considered it too old to insure. I gave them all my data for nothing! I then received a number of ads in text messages. I found it incredibly frustrating and had to spend a good few hours unsubscribing from each platform.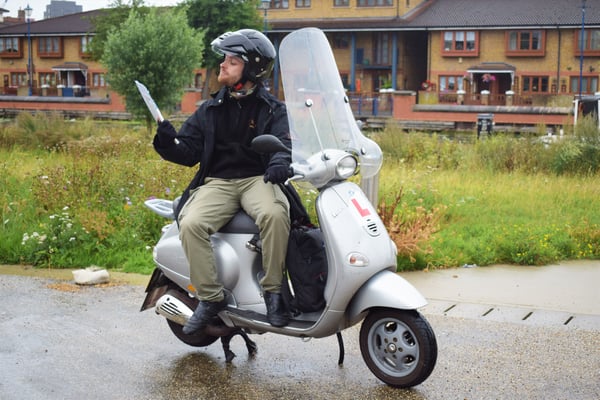 Parked outside Plexal In June drizzle
Once I found a website with some prices, I found myself completely lost. The prices varied from around £200 to £5000! I asked our resident insurance expert - data scientist and actuary Alberto Chierici - for advice. We spent three hours looking for insurance together. We looked for something in the middle, between £400 - £500: not too cheap, but still affordable!
For each product, we went straight to the insurer's website. And you know what?
The price was almost always cheaper by around £30 - £50. That was the pure fee of the comparison website! I realised two different comparison websites gave very different prices for the exact same product.
Once I landed on the insurer's website, I clicked on a button that was almost hidden from view: the terms and conditions.
In the middle of a 78-page document, I realised the insurer was actually a managing agent. The actual insurer was another brand. So, the process started all over again. I changed websites and looked at a super old-fashioned page of the actual insurer underwriting the policy. I had to add all my details (again!), then restart the process several times as the page was full of bugs. Then once I was finally done, I found out two things.
Overall, the final price was more than £50 cheaper than the original quote. And second, I played with the insurance parameters (for instance, getting comprehensive vs. third party cover). I played with the excess and found out the price didn't change with a different number. Obviously, I entered £0 excess and the premium was the same as the standard £250 excess (that I could not even modify on the initial price comparison website!).
Once I bought the insurance for my Vespa, I received my policy by email, then in the post. I tried to read it and could barely understand it. There was far too much jargon for me to understand. Also, the policy was 45-pages long, with several detailed tables.
Overall, it was incredible how much these insurance prices varied. It didn't just depend on the quality of cover. It also depended on the distribution layer I was interacting with (the aggregator first, then a brand, and finally the real underwriter), even though ultimately you're getting the exact same product. At the end of the day, I wanted a simple thing: insurance for my Vespa. Yet it took hours to find and finally buy it - even with an insurance expert sitting next to me.
Yet, after all this, just days after I bought insurance, I was pulled over by police as part of a routine check. Instead of asking for my license, they immediately asked me for my insurance. It made me realise that insurance is important and just how much the insurance industry needs to improve its digital customer experience. If it is that difficult for me to get insurance even while working in insurtech, how frustrating is it for others who are not in the insurance sector?
Stay tuned - more trouble awaits!
Part Two of Alberto's Insurance Stories will be out next Wednesday on the Spixii blog.
To find out more about how to implement Spixii's chatbot technology, please click below. We look forward to hearing from you.